This story includes music and pictures, which may be seen at the end  of this post.
The Young Aristocracy was a Tulsa, OK. based band established by a friend and former band-mate from "Little Jim and the Fabulous Monkeymen", Jim Sweney.
In 1967 either Jim approached me or I sold him on the idea of me producing this band in my studio in my parents' house in Prairie Village Kansas. We made the deal with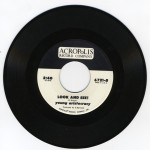 a guy named Gary Sallee from Acropolis Records in Lawrence, KS. His only qualifications were that he knew where to get 45 rpm records pressed in small quantities and he designed a really nice logo. I liked it so much I had a hand stamp made.