There were very few "combos" in the Kansas City area in the early 1960's, but the Beatles changed all that. With their basic lyrics, simple bass and lead lines and elementary song form, any dumbass with a modicum of talent could whip up enough courage to play a few chords and get out there and play, albeit cover songs.
I was one of those dumbasses who figured out enough shit to get away with sounding like I knew what I was doing. Besides, ultimately I had the biggest  bass amplifier in town. So I went for it.
It really started with the school "Talent Show" where we were a bunch ofguys that were previously just jamming together, then suddenly shot to local startdom  in the Kansas City suburb of Prairie Village, Kansas. We became a REAL BAND!
[ CLICK HERE to go directly to the sound files]
In my first band, the Apollos, I really had a crappy bass, shared a guitar amplifier and none of us had any idea what we were doing. By the time the opportunity to be in another band came up – I was ready.  I had been playing bass along with Beatles records and Paul McCartney showed me some great bass patterns.
I had constructed a gigantic amplifier, made from 3 15″ CTS speakers from McGee Radio, a war surplus 50 watt power amp, and a phono preamp for a front end. Finally I convinced my parents I wasn't going to be a cornet player any more, and traded the horn for a slightly used, Cherry red Gibson EB=O bass.  It stayed in tune and was wonderful to play.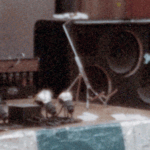 The Monkeymen, led by frontman Jim Sweney, was different. Jim had a flair for showmanship, and was a fine looking chap that the girls adored. Gayle Sanders, another ladie's man, was quite an experienced guitar player, and had been in several bands. Dick Henry was our keyboardist and vibist – but I don't know much about his history.  And Steve McLane was two years behind us at Shawnee Mission East.
I remember from the very first rehearsal  it was fun and fairly easy to play with these guys, and I played well enough to keep up with them with my beautiful new bass and big-ass amplifier.
You have to understand how especially awkward it was to be a nerd in the 60's. Glasses immediately branded one and the teasing and bullying by upperclassmen was more than an occasional event. I had a job in radio, but nobody listened to the station where I worked, didn't go out for sports and had zits with a severe lack of confidence.
In 1964 we did this talent show at the high school, Shawnee Mission East. We did one or two songs, and were the first rock band to play (the other band being the Shadows). The girls screamed, loudly, and that is about all I remember except it was a cool enough of an experience that it gave me chills. This show was monumental to my own personal currency. People noticed me. Seniors stopped bugging me in the halls. Suddenly we were stars.
We got lots of gigs, and only school and eventually college got in the way of playing more that we did. So got to play a great deal. We played everywhere – schools, dances, churches,  shady places at the edge of town. We even went on a ski trip to Colorado as the official band – and of course the gigantic bass amp went along too. We rehearsed in my basement studio and I recorded a few of the rehearsals.
By the spring of 1965 the gigs started thinning out, yet many of our friends dearly wanted to see the band. Our friends in the Shadows had successfully staged several 'pay dances' on the Kansas side in Leawood and we wanted to try to create our own venue.  We found a vacant nursery property that was perfect – except it was on the Missouri side of the state line – by 100 feet. We didn't think that would be a big deal. We were wrong.
The PURPLE MONK – April 17, 1965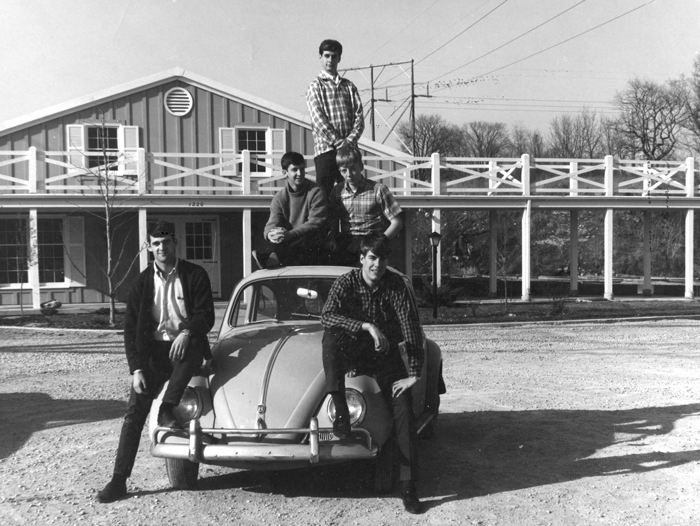 The Fabulous Monkeymen in front of the famous PURPLE MONK: a one nite stand L-R
– Gayle Sanders, Dick Henry, Jim Sweney, Steve McLane, Stephen Barncard
We did some research and talked the owner of the property into leasing it to us for $150/night. We then set out to get a permit from the city – and were given a major run-around with the Kansas City, Missouri welfare department. We fixed up a second bathroom, got the number of police required and all their other demands but they still wouldn't give us the permit. Our dads went down and talked personally to the chief asshole at the Welfare dept.
You have to understand the influence of politics in everyday life of an old school graft town like Kansas City, Mo. The unions just ran things the way they wanted in KC and that was that. But their jurisdiction extended only to the state line and was not valid in Kansas.
The Monkeymen were not a union band, we were just a bunch
of white kids from the suburbs of Johnson county. We couldn't afford to join the musician's union and weren't sure we could even get in.  It cost $200 to get started and the dues were pretty steep. And the scariest part was that they demanded an audition!
It wasn't going to happen. Besides, we never need to play those union places anyway. Our parents and the band decided to go ahead anyway – quite rebellious for parents – they thought the ruling was ludicrous.
We had advertised for weeks, and it helped that Jim and I worked for the school paper, the Harbinger. I laid out the ad, Jim did the artwork, and my dad took these great photos in front of the nursery. That's the Barncard Volkswagen in the photo.
We bought a bunch of plywood and built this nice stage with a huge runway that Jim always liked to use and I think we may have had my new automated lighting system. We had worked out a bunch of new songs for the opening night and we were well rehearsed. This was going to be a big night, and hopefully we could make back our investment and do it again. We just wanted to play.
We were ready – we had people manning the soda pop areas, my dad was in charge of admissions and the cash box, and we had  plenty of parent-chaperones and several off-duty police as required. Each visitor would have to show id that they were from a Kansas high school and be informed that this was a private party and the money was a donation. We seemed to have all the bases covered.
We had more people show up than we could have imagined – some estimated the crowd at 700 people. The parking lot was full, The dance floor was packed wall-to-wall with happy people having fun and we were playing the set of our lives. For an hour or so, we were rocking, and played better than ever. We had just started our cover of the Kink's "All Day and All Night" when one of the dads told us the dance was being shut down by the police.  The lights went on – the place was cleared – that was it. One of the dads went off to jail. Bummer.
Later, after the dust cleared, we found out that the night had gone peacefully until some strange guys too old to be students jumped out of a car, then staged a fight in the parking lot. Then the squad cars arrived on cue and shut down the dance, citing that things had gotten too dangerous.
I had theorized that the reason this all was staged because we were not a union band. The KC union pulled strings with the welfare department, the welfare people pulled strings with the police. And we got screwed.
There was some kind of hearing, and the judge asked the welfare officials for a reason to not give the permit to this group as we had met all the requirements; all they could say was that the band was non-union.
But it was a great experience – and we learned a lot about politics, music haters – and corruption.
---
More photos and press about the Purple Monk incident in the   PHOTO GALLERY
---
MONKEYMEN LIVE This is the only recording of the band that has survived. This is a product of my home studio, Audio Lab, at 7701 Mission Road. It's an edited version of a live show badly recorded at Shawnee Mission North in 1964, with parts recorded at a studio session sometime later.
Considering the random reverb and sloppy mixing, I'd say that this was a "rough acetate" that was hastily made. I don't remember cutting it. Recorded directly to a 1/4 track portable machine with one channel being the band track, and the other fed from the PA. You can hear the severe distortion on the backing vocals, due to a cheap Calrad mixer on the PA clipping out.
Then that tape was mixed down to  a mono 1/4 inch 15ips Presto full track tape recorder. The resultant tape was timed and leadered for disk cutting, then cut to this acetate with my Presto 6N cutting lathe and its custom power amplifier.
Thanks to Gayle Sanders and his mom for saving this little gem that otherwise would be lost to the sands of time.