This story includes music and pictures, which may be seen at the end  of this post.
The Young Aristocracy was a Tulsa, OK. based band established by a friend and former band-mate from "Little Jim and the Fabulous Monkeymen", Jim Sweney.
In 1967 either Jim approached me or I sold him on the idea of me producing this band in my studio in my parents' house in Prairie Village Kansas. We made the deal with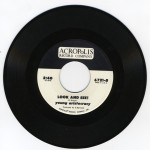 a guy named Gary Sallee from Acropolis Records in Lawrence, KS. His only qualifications were that he knew where to get 45 rpm records pressed in small quantities and he designed a really nice logo. I liked it so much I had a hand stamp made.
The band drove up with their trailer from Tulsa to my house at 7701 Mission Road specifically to do this, and we cut the the two sides in a day. The band would play live with Jim singing live in the room.  I tracked with my home-made mic preamps and mixers designed by the legendary Ernie Sarazan.
I set up a PA system for the vocals so nobody had to use headphones. First pass got recorded on the 1/4 track stereo machine, then I would mix in the tracks from the 1/4 track with another pass for background vocals and lay that mix onto the Presto 15 ips mono machine.  It was very hard to mix anything loud in the room because the band would swamp my monitors, so the mix couldn't be determined until everyone stopped and we could do a playback.
We got a track that everyone could agree on, then the band went back to Oklahoma.  I booked a mastering session with Vic Damon (who else could prep a master lacquer in KC?) and he did his best to ruin with his magic hypercompression designed to save his cutter head from unneeded peaks. Then I sent the masters off to Acropolis.
Later I visited Gary Sallee at home and was dismayed to learn he ran his office out of a funky house trailer. Not exactly a big company. Anyway, the band had some money and paid him for the pressings ( and presumedly some promotion ) and later I drove down to Tulsa and was with the band when the pressings arrived, just in time for the 'Big Gig' which is probably that portrayed in the photo links below. Somewhere in this timeline,  I remember hearing the record on the local radio station, and then the bummer of finding out that several boxes of the 45s being lost on the freeway due to someone putting the boxes on top of the car, and driving away.