The freeway between Dallas and northern Texas has no towns of any size to drive though along the way, only giant truck-friendly gas-food stops, with porn shops across the lot in the same complex. No trees or foliage of any kind except sagebrush and dust devils that break up the totally flat landscape with few other distinguishing features. For 5 hours, I drove through this bleak landscape on my way to Wichita Falls. TX.
That gives me a lot of time to think about why the hell am I in the middle of Texas with a 12 hour turnaround chasing after a silly old broadcast console.
Well, that's not too hard to explain. It's the sound of that console. And I'm probably getting the last one on earth in any decent condition.
This year I've become a gear hound big time. I'm headed to the legendary Nesman Studios, a studio that has been in business since 1947 – nearly a decade before the rise of the independent studios in Hollywood like Sunset or United-Western. Here I am going to inspect and prepare for shipping a 1956 Gates Dualux Broadcast console, the likes of which I've used decades ago, and for some reason in December of 1999, I purchased one, sight unseen.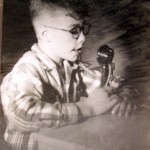 My Gates story goes back to the early 60's when I was finally able to get a position in a real radio station. This was after many childhood years "playing radio" with a milliwatt transmitter and turntables in my basement, a scenario not unlike the childhoods of others that have been involved in broadcasting.
My first pro job was at the independent KCJC-FM, Merriam Kansas. FM Stereo was the next big thing, and they had been one of the first stations in the country to use the compatible stereo format, and prided themselves on the technical quality of the broadcasts. Audio Empire turntables (with the magnetic arm securer) with EICO tube turntable preamps. And that GATES console to route it all. They had a strong on-air carrier and audio quality.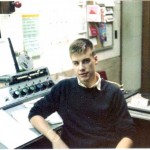 At first I would read the news for the 12-2am shift on Saturday, as I had befriended a dentist-stockholder-dj (Jack Loudon) in the station who let me hang out for hours. After a while Jack decided he'd had enough of the late night thing, so I inherited the show, and for two years got to be the host on "Night Flight Jazz". I also got to do fill-in work on holidays,
Christmas was great – my family and I would celebrate the night before, I'd get up at 5am on Christmas, drive to the station and sign on the Gates Transmitter. First the heaters, then the plate voltage, then tweak the grid and plate voltages. Then I'd do an 8 hour "combo" shift until another weekender would come in. Got to miss church and everything.
A pretty cool job when you're 15.5 years old. (The .5 is significant as 15.5 is the minimum age to drive in Kansas, an agricultural state.) It was also cool to have a father (R. G. Barncard, Long Lines Pioneer) that not only approved of my radio activities, but encouraged and enabled me as well. He even filled in for me one night spinning records and doing breaks on the Gates while I lay sick with the flu in the other room.
I remember getting the manuals for the console out of the tech room and reading the schematics. I loved the sound of the preamps – clean, responsive, realistic, made even more clear by their use of a control room mic that I knew well. The EV 665 was the 'pro' cousin of the PA mic the EV 664, of which I owned 4 at the time for my recording studio in my parents' basement.  One big question that I still have today is how they modified the console to use the three stereo pots to the passive low impedance mixing circuit. As I have mentioned, the console was not originally designed for stereo, it was dual.
I was with the station for 2 or 3 years, and one time I came to work and there was this bearded guy with long hair and sandals. He spoke with a Shakespearean drawl and claimed he was an actor.  He had talked the remaining two stockholders, Ruben and Ethel Sell, into letting him run the station in a new way.
This was an odd partnership, because here was this 'beatnik' character doing business with who I knew to be two of the straightest, most uptight people I had ever met. His deal was to include his providing Spotmaster cart machines for commercials as we had been playing reel-to-reels before that.
Since the old tech had left the station, I was enlisted
to attach the machines to the console, and it wasn't hard to find the entry points. I got my first look inside the console at this time. The deal between the owners and the beatnik was over in a few weeks and the Spotmasters disappeared. Back to racking reel to reel tape.
The Gates DUALUX console was a huge problem solver for independent radio stations in the late 50's. Many stations needed a console that was DUAL, not stereo, as these stations were AMers with companion FM frequencies that simulcast part of the time, and sometime not, choosing automated feeds, networks, or other control rooms.  The Gates was input choice overkill, 1956 style.
One could have up to 7 mic preamp trays, which would be perfect for a news organization (or a recording studio, in
the case of Nesman Studios). The matrix of several high quality Switchcraft 'top hat' lever switches could bring in a plethora of network or remote sources into the console without patching.
The middle section was a multi-purpose cue amplifier and intercom. 'Crack' the turntable and aux pots to zero and the audio of that channel emits from the speaker in the middle (or through the cue headphone jack).
The cue could not only be used as a talkback/intercom in the other studio rooms, but could also return audio back over connected phone lines for remote cues. The front panel swung down for easy access, while staying live. Multiple turntables and tape machines could be switched among the 4 aux-turntable inputs.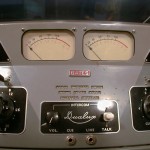 The electronic design was excellent and smartly executed.
Some may argue that low-impedance balance mixing circuits are archaic, sonically inferior, and require elaborate switching networks to add or subtract inputs to the bus. There is a method to their madness; the console has to operate in a possible environment of large RF fields as many radio stations have their main console at the transmitter location.  Daven balanced pots and UTC transformers were used everywhere, and some of the best VU meters money could buy. Finally, the package also included a rack mounted power supply that also included a useable monitor power amplifier. The console was encased in a hinged steel cabinet with wooden ends with rounded corners.
A succession of radio station jobs had followed into the middle 60s. At KUDL, a 'BOSS-RADIO' format rock station in Lenexa, KS (Kansas City market), I ended up with a highly desirable combo position on weekends during my last high school year and first year of college.
I had always worked from the transmitter location, where the console was a Gates Yard. One summer I was designated the Program Director while the regular PD went on vacation, and had to work out of the downtown studio and discovered the console there was, yep, you guessed it, yet another DualLux console.
The next few years I bounced between playing in bands and working at various radio stations in KC. In 1969 music and taste changed radically. The old KCJC I knew from my past had been sold to KUDL, and its transmitter and console moved to the transmitter site in Lenexa. KUDL did not have an FM radio outlet until the KCJC purchase. As they were located in a major market and the content rules necessitated separate programming. At the same time, FM radio did not have the penetration that it does today, most cars still didn't have FM receivers, and the airtime wasn't worth much to most advertisers.
And that's how 'Underground Radio' started in San Francisco at KMPX in 1967, and by 1969 KCJC-FM started working with the format. The main reason for the owners was to keep the frequency was for the sub-carrier, which was used for distributing background music to Safeway stores, but that also meant we could play any music we wanted, as long as it wasn't profane. The downside was that the station was badly maintained, the stereo generator was out of commission, and the single tape machine was saturated with RF.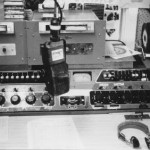 Compare the console's condition in the color photo of young Barncard earlier in this text to the black and white photo of the condition it was in by 1969. (Please excuse the attitude of the Barncard.) This is the same console. Those were hard years with many DJs wearing away the paint and smoking thousands of cigarettes.  One could only imagine what shape that console would be in today, and as it was a tube board, probably thrown into the dumpster in most cases, as the new solid state boards started to proliferate. To me, the solid state Gates never sounded anywhere near as good.
After 7 years of being a radio guy and 6 months in this dump of a station, I started to grow restless, wanted to make records instead of spinning them, and set forth on the next great stage of the adventure of my life.
Fast forward 30 years and I'm living in Santa Rosa, still in the music business, but working out of my home. For no odd reason I still yearned to find a broadcast tube console, either a Gates or an RCA. I had plan to do some mulit-track recording with it, using it for mic preamps, but nothing certain. I just had to have one.
At long last after combing broadcast equipment catalogs and several email lists, someone on the Ampex list sent me a message notifying me that there's a studio in Texas that was closing down, and they may have a DualLux.
A quick call to Texas confirmed that. I talked to Sally Nesman, of the husband and wife recording team of Nesman Recording, Wichita Falls, Texas. I wrote a check on the spot and sent it off to Sally.
About 6 months later a Christmas trip to see the folks in Alabama opened up a way to see the thing I'd bought and arrange for transport. So here I am, on the way at last.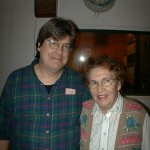 I arrived just about sundown. Sally greeted me warmly, and she had this wonderful southern girl charm that reminded me of my mother, and she  was about the same age.
I said hi to Louis, but he'd had a stroke and was could not speak. I didn't have much time to spare so we went directly to the studio. There it was, in situ since 1958, the Gates DualLUX. Louie had cared for it well. There were all kinds of ancient signs taped to the walls informing everyone that this was a smoke-free studio, and his equipment showed it. I got a quick tour of the studio. Quite a large space with a 12 foot ceiling, and five or six microphone stands.
As I started cutting the wires out of the terminal block inside the console to remove it, I saw Louis staring at me from the doorway, silently. It must have been depressing to see his studio desecrated like that. I took the console, stand, and and power supply out and set them out on the floor of the studio so a crating company could come and pack it up.
Sally had ordered some dinner from Olive garden and we had some conversation about how they got started in the studio business in 1947 in Biloxi Miss. and eventually ended up in Wichita Falls. Their business took off and did well for many years.
THIS STORY WILL CONTINUE SOON
Postscript:
The console was donated by me several years ago to the California Historical Radio Society. You can see it in the background of the photo below. That's CHRS's president giving a virtual tour of their museum in Berkeley CA. in the former studio building of radio station KRE.  Click the image  to see the tour.